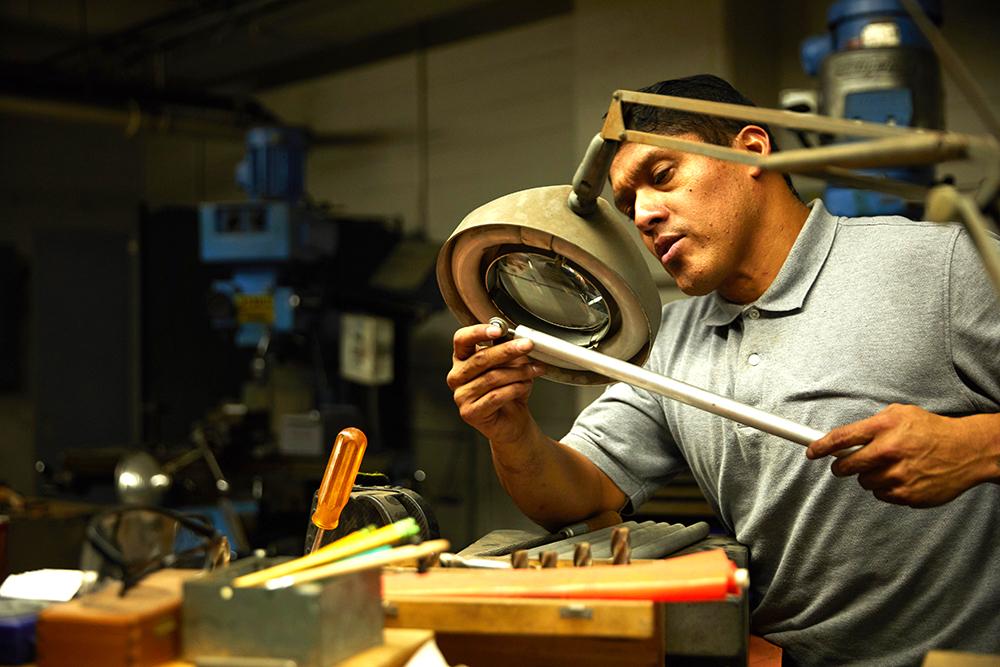 With just over a week to go until the Mobility Unlimited Challenge deadline, our Discovery Awardees are developing their devices to enter.
The Mobility Unlimited Challenge exists to attract and support innovators who might otherwise struggle to break into the assistive technology market. The Discovery Awards were given out to 10 teams who used the funding to help them develop their entry to the Challenge.
Our Discovery Awardees each received $50,000 and have been working hard over the last few months. They have utilized the grants in many different ways, from bringing on partners and experts, to building prototypes and high tech tracking labs. All of the teams have been working with their end users, to co-create their devices based on their wants and needs.
All ten teams are now finalizing their working models and preparing their entries to the main Challenge. Note the Challenge is still very much open, and we expect some tough competition on August 15th!
Interested in applying for one of our five $500,000 finalist development grants? Explore our Innovator Handbook and Resource for more information and get your entry in online by August 15th, 2018, 23:59 BST / 18:59 EST / 04:29 IST (16th) / 07:59 JST (16th).
 
Read more from the Discovery Awardees below:
"The Discovery Award has been monumental for the progress of our device and the ability to enter the Challenge. We have been able to develop a state-of-the-art motion tracking lab which has been essential in improving our movement detection algorithms and for perfecting our device's precision. Thanks to the Discovery Award, we went from scrapping prototypes to innovating and building novel inventions." - Foot++
"The Discovery Award has allowed me to take time out from my day to day activities running my business in order to develop the idea and build the team for the main challenge.  Without the Discovery Award it would have been very difficult to get our partners onside, the backing of the Toyota Mobility Foundation has given us great credibility.
The Discovery period has allowed me time to fully develop the idea so our main challenge proposal is concise and viable. It has taken time for our partners to grasp the idea and what it will deliver to the end user. Building the working model has allowed everyone to understand what the main completion needs to deliver, it has been an invaluable process of learning and team building in preparation for the main development." - Phoenix Instinct
"What we propose to do is highly ambitious, and without support from the Toyota Mobility Foundation through the Discovery Award, it would have been much more difficult to convince the experts we need to join our team and execute our strategy.
The most important task when developing a new medical device is uncovering and clearly understanding end-user needs. To effectively uncover user needs, one cannot simply ask end users what they want; instead, those users must be participants in the conceptualization and creation of the product so that they fully understand both the opportunities and the constraints." - The Institute for Human & Machine Cognition (IHMC)
"Thanks to the Discovery Award we have been able to develop and test our proposed exoskeleton for a personalized usage with multiple volunteers with different levels of SCI, thus, different needs and experiences.
We all are learning the significant difference that exists between each type of paralysis, and also we are very excited to see their latent capabilities throughout these wonderful experiences to work together with them. Now we understand the necessity to acknowledge it for providing a mobility device for a wide range of people." - Artificial Intelligence Laboratory, University of Tsukuba
"The Discovery Award has enabled our team to build our first full-sized Alpha prototype that can be tested on human subjects. This is a major step forward in our commercialization plan and the Award will allow us to enter the Challenge with unique capabilities never seen before in a lower-limb exoskeleton.
We feel that co-creation is one of the most important aspects of the development of our wearable robotic exoskeleton that is intended to be used by people with mobility disabilities. Our goal is to introduce this system as a potential solution for the issue of mobility. We are aiming to greatly expand and prolong the use of the system by covering the daily needs of the users. For this purpose, we need to work together with the end users to fully understand the needs and preferences to achieve our goals." - Human in Motion Inc
"The Discovery Award has helped our team at the City University of New York significantly in our endeavor to design soft exoskeletons, soft sensors, and their intelligent control algorithms.
The devices are designed for the users, and human-centered design has always been of paramount importance in our development process. To guarantee that the design is practical, functional, comfortable, or even needed, we work closely with the end users and clinical partners. Through co-creation, we can collaborate with end users to meet the functional requirements of comfort, reduced social stigma, and real-life need." - Biomechatronics and Intelligent Robotics Lab
"The Discovery Award is first of all a financial support for small teams or individual participants. It helps us to organise a solid workflow of our development for Main Mobility Unlimited Challenge, as well as to establish a stable platform for further startup. With this seed award we have been able to achieve first technological and economic successes. From attracting best engineers, to getting best software and hardware for development process, to the prototype manufacturing, the Discovery Award is a great support." - Aesthel
"We aim to provide a hands-free, "interface-less" wheelchair navigation system by incorporating eye tracking with autonomous vehicle technologies for a seamless urban mobility. Along this journey, Discovery Award has been pivotal in acquiring the necessary equipment, but more importantly enabled us to bring the diverse skillset on board. With a diverse team, including not only engineers, but also neuroscientists, behaviour experts and disabled members, we are developing a solution that can readily benefit the potential users in their daily lives.
Co-creation has been integral to our development process in tackling the problem of wheelchair mobility for severely-disabled users. As we iteratively advance our design, we work together with our end-users at every milestone to ensure that our solution significantly improves the users' quality of life." - Brain and Behavior Lab, Imperial College London