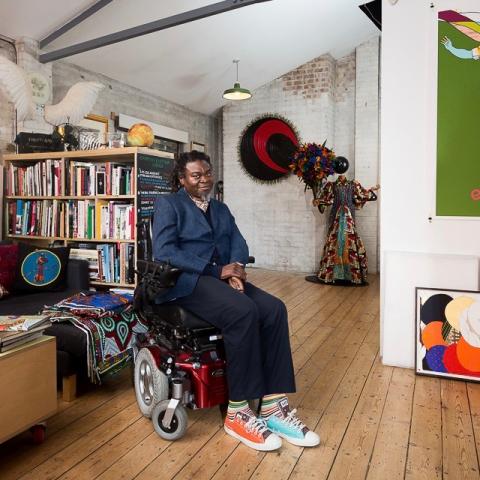 Yinka Shonibare MBE
Yinka Shonibare MBE was born in 1962 in London and moved to Lagos, Nigeria at the age of three. He returned to London to study Fine Art, first at Byam School of Art (now Central Saint Martins College) and then at Goldsmiths College, where he received his MFA.
Shonibare's work explores issues of race and class through the media of painting, sculpture, photography and film. Shonibare questions the meaning of cultural and national definitions. His trademark material is the brightly coloured 'African' batik fabric he buys in London. This type of fabric was inspired by Indonesian design, mass-produced by the Dutch and eventually sold to the colonies in West Africa. In the 1960s the material became a new sign of African identity and independence.
Shonibare was a Turner prize nominee in 2004, and was also awarded the decoration of Member of the 'Most Excellent Order of the British Empire' or MBE, a title he has added to his professional name. Shonibare was notably commissioned by Okwui Enwezor at Documenta 11, Kassel, in 2002 to create his most recognised work 'Gallantry and Criminal Conversation' that launched him on to an international stage.