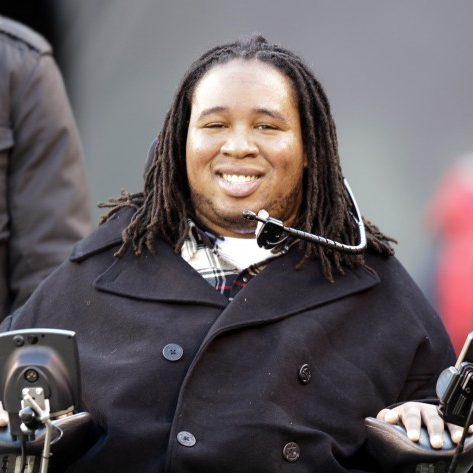 Mr. Eric LeGrand
Advocate
Eric LeGrand is an activist and advocate for for individuals living with spinal cord injury and paralysis. He is a Rutgers University football star who, in October 2010, sustained a spinal cord injury at his C3- C4 vertebrae during a game at MetLife Stadium. While the initial prognosis was grim, Eric demonstrated his tenacity and strength by shattering all expectations for his recovery and rehabilitation.
After graduating from Rutgers University with honours, giving the commemorative speech during the commencement ceremony, Eric has worked as both a motivational speaker and sports analyst. Eric also released his first book in the fall of 2012, titled BELIEVE: My Faith And The Tackle That Changed my Life. A well known figure in the American Football world, Eric also advocates for improved safety measures in the NFL.
Eric has harnessed the national spotlight he attracted from his injury to give back to the community and inspire those living with and impacted by paralysis. This has included setting up Team LeGrand in September 2013. Team LeGrand works to help individuals living with spinal cord injury and their families by supporting quality of life initiatives and emerging therapies to find cures for SCI. In 2017, Eric succeeded in his initial goal when Team LeGrand hit the $1 million mark of total funds raised.
Eric has been recognized by numerous awards including Sports Illustrated's "The Best Moment of 2011", the Jimmy V Award for Perseverance at the ESPY Awards and the WWE Warrior Award. Most recently, Eric launched a web series with Fox Sports called Mission Possible, which focuses on individuals with disabilities overcoming adversity.